Teeth are in human mouths, and they're something we're used to seeing every day in the mirror. However, did you realize that lots of other animals have teeth that are totally different than ours? The following seven animals have totally crazy teeth — you'll be surprised that they serve a similar purpose to your own!
The Titan Triggerfish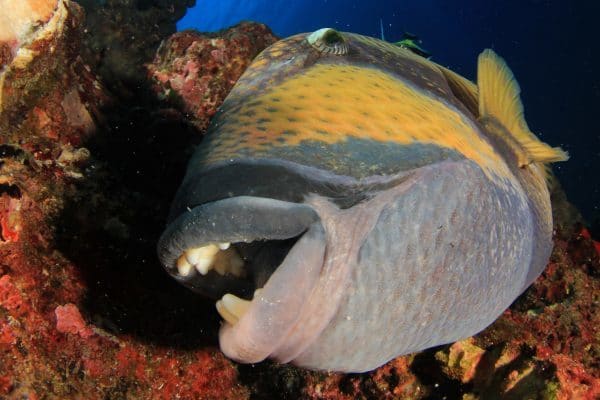 When you think about fish, you usually don't think about teeth, but the titan triggerfish has very distinctive teeth. Not only do they look oddly human in the fish's mouth (they are pretty straight), but they are extremely strong — they are meant to be able to crush rock and coral. Triggerfish swim in shallow waters, and they'll even bite human intruders who invade their territory!
Dragonfish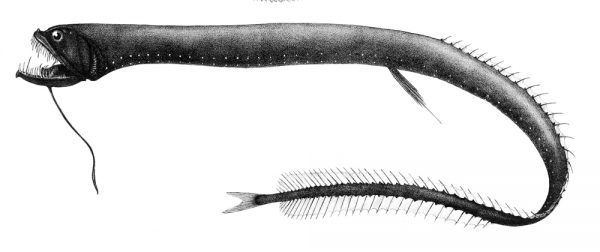 Another fish with crazy teeth is the dragonfish. Fierce like their namesake, dragonfish grow extremely sharp teeth from its jaws — and its tongue! The dragonfish is a deep sea fish, and a small one — so they're not a threat to humans. However, since they live in near darkness, their teeth on their tongue allow them to more easily catch and kill their prey.
Crabeater Seal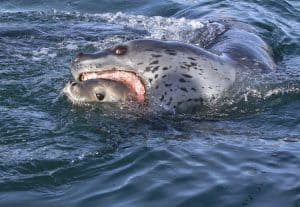 The crabeater seal has crazy-looking teeth that are curved and Christmas tree-shaped. These teeth are a great example of how evolution works: The seal take a mouthful of water, then the teeth act like a sieve. The water runs out of the seal's mouth, and all the critters left behind get eaten. These seals aren't particularly viscous or dangerous, but their teeth are definitely some of the craziest-looking on the planet.
Great White Shark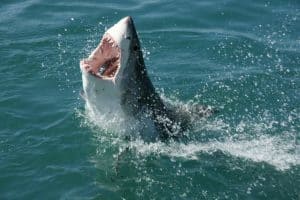 It's hard to talk about teeth without mentioning the teeth of the great white shark. Great white sharks have about 24 exposed teeth on their upper and lower jaws, but they continuously lose their teeth their whole life — then grow new ones. Marine biology experts who have tried to calculate how many teeth sharks go through seem to think they go through about 30,000 teeth in their life! Sharks continuously have multiple rows of teeth in their mouths.
Babirusa
The Babirusa, sometimes called the "deer pig," is an animal that's native to Indonesia. Babirusas have extremely strong, sharp teeth that curl out of their mouths — both on their upper jaw and their lower jaw. The massive teeth are used to fight with other Babirusa during mating season — but they can also be deadly if the animals don't spend enough time grinding the teeth down, since they will curl backwards and into their own skull.
Saber-Toothed Deer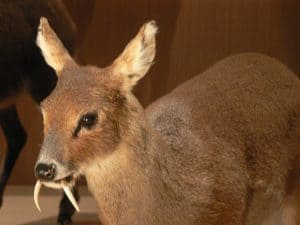 Think deer are sweet and gentle? You may want to think again when you see the saber-toothed dear. The saber-toothed deer has massive fangs like a saber-toothed tiger, and they use the teeth to fight during mating season (like the Babirusa). Saber-toothed deer are also called "musk deer," since they use a strong odor to mark their territory.