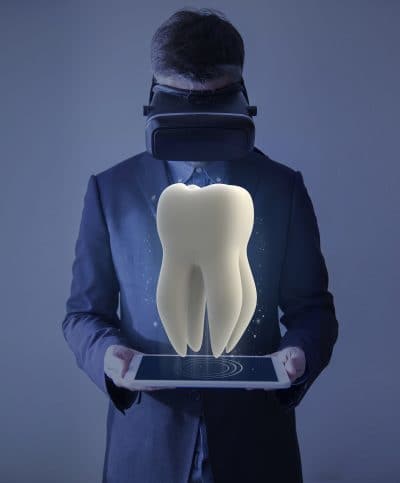 Artificial intelligence may sound like something you only see in science fiction movies, but technology companies have already developed AI that benefits all kinds of industries. In fact, AI has been making great strides in dentistry. In the near future, you may discover that your dentist uses artificial intelligence to improve everything from daily brushing to diagnosing serious illnesses.
Smart Toothbrushes Improve Daily Brushing
You can already find some smart dental technology at your local drugstore. Smart toothbrushes take the guesswork out of brushing by analyzing your technique. If the toothbrush determines that you need to adjust your brushing angle or spend more time focusing on certain teeth, it can give you feedback telling you how to make those improvements.
Many of the toothbrushes will connect to your smartphone or tablet to access more computing power that will make your brushing technique perfect.
Several companies make smart toothbrushes with various features. Many of the toothbrushes cost $100 or more, so make sure you read reviews to help you decide which model matches your needs.
Dentists Can Use Technology to Diagnose Conditions Quickly
The sooner dentists can diagnose problems with your teeth and gums, the easier it is for them to make corrections. That's why scientists are developing technology can diagnose dental issues from your own home.
An article published by Scientific American looks forward to the day that people can use smart toothbrushes that know how to spot cavities, cracks and other conditions. One day, your smart toothbrush will have the ability to scan teeth and upload images to the cloud, where artificial intelligence software can provide a more thorough diagnosis.
Patients and dentists will benefit greatly from this technology. Patients will know that they don't have to suffer with tooth pain for days before they can see their dentists. Dentists will get to see more patients because they don't need to spend as much time diagnosing dental problems.
One Day, a Robot Could Replace Your Dentist
Artificial intelligence already does a lot of behind-the-scenes work at dental offices. If you've gotten braces or similar treatments within the last few years, a computer probably helped design your orthodontic devices.
As artificial intelligence and robots keep evolving, they will learn how to perform increasingly complex behaviors. Some experts envision a future where robots do most of your dental work. Since machines can work more methodically and precisely than humans, robots could make excellent dentists.
Even if robots don't replace dentists, they will play more important roles in dental offices. Similar changes have happened in ophthalmology offices where machines now perform LASIK surgery under the guidance of human experts. Even though humans take responsibility for the work, machines do much of the scanning, cutting and repositioning that improves eyesight.
It's only a matter of time before dentists start to use more machines that help them do their jobs better. You and other patients may feel a bit strange having a robot work on your teeth, but it will become an expected part of dental care. After all, plenty of people already use sedation dentistry because they feel anxious about going to the dentist. If a few more patients need help calming themselves, the robots will certainly have medications on hand to make the experience positive.
Don't expect to get a dental cleaning from an android anytime soon. You should, however, expect to see more gadgets that use AI to provide better dental services.