Eating Healthy During the Holidays
Yes, we all know we should do it but it's really hard to maintain a healthy diet during the end of the year holidays.  Everything starts going downhill during Thanksgiving.  There's usually too much food served and you end up consuming leftovers for the next several days or so because you feel guilty throwing it out.  During the holiday rush people are running around busy finding bargains for Christmas gifts.  No time to eat properly.  After Christmas people traditionally go out and do more shopping for better bargains.  Who knows, maybe they're trying to find gifts to give for next Christmas. Then comes the New Year which the majority of people promise themselves they'll try to lose weight or get into better shape by exercising and eating healthy.
Here are several ways to help your body maintain a healthy diet during all this madness.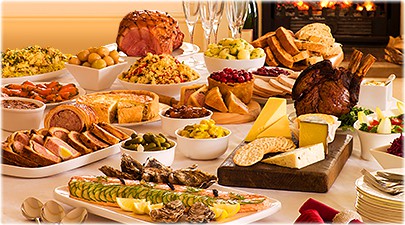 1. Always eat breakfast.  It's one of those facts that people know in the back of their heads but is always ignored because we are all busy trying to get out of the house to get to where we have to be in time.  Not eating breakfast may affect your mood level and energy level for the day.
2. Make sure to keep a pack of healthy snacks in your bag.  Snacking on a pack of nuts and/or a fruit in between meals help maintain your hunger and prevent you from overeating.
3. Eating three or four small meals a day rather than large meals keeps the blood sugar level throughout the day.  It's a good tip to fight obesity.
4. Try to choose to eat more of the healthier food selection.  Ham, pies, cakes, ice creams, and eggnogs. So much food tempting you all at once.  To reduce eating the more high calorie, high fat foods, try to put more veggies and fruits on your plate.
5. Drink unsweetened cold/hot tea or sparkling water in place of high sugar laden sodas.
There you are.  Several tips to maintain a good eating habit during the holidays.  Now don't forget, try not to elbow people while you're shopping.  It ruins the holiday spirit.