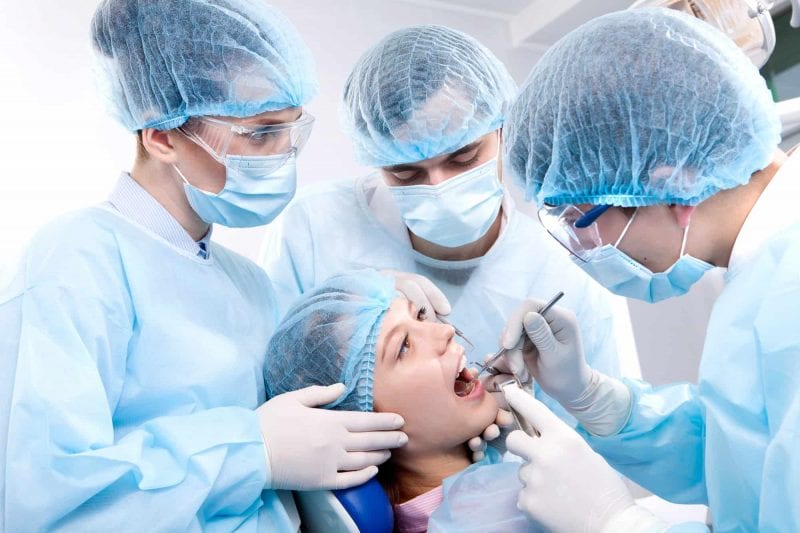 In Dentistry there are two distinct professionals; the general dentist and oral surgeon. Oral Surgery, also known as maxillofacial surgery, specializes in jaw joint disorders, wisdom tooth removal, surgery, and dental implants. These specialists usually attend an extra four to eight years of dental school. If a general dentist can't solve a problem or is unable to complete specific dental tasks; they'll refer the individual to an oral surgeon. Here are some of the procedures done by oral surgeons:
Soft Tissue Removal
Difficult Wisdom Tooth Removal
Implant Alignment
Complex Tooth Removal Including the Bone
Tumor Removal
Impacted Tooth Removal
What Can You Expect From Oral Surgeons?
Though very in-depth procedures are performed; oral surgery is fairly common in adults. The procedure is usually finished in one day and there is a combination of numbing agents used depending on the severity. Many oral surgeons sedate their patients during procedures. This helps the surgeon's concentration but also helps to relieve anxiety which gives the patients some much needed, stress-free rest.
Many of the procedures don't require a hospital visit and many if not all are performed in regular dental offices. This practice has been around for a long time and the business has increased throughout the years because of many new cases of oral cancer. If the dentist finds something suspicious or malignant in your mouth, neck, face, or jaw; a biopsy may need to be performed in order to diagnose the condition and oral surgeons are chosen for these biopsy procedures. These surgeons have expert knowledge in radiation and oral cancer.
Making Preparations and Recovery From Oral Surgery
Just like with all doctors; always follow their instructions and guidelines which will help with a speedy recovery. Since most of these procedures are outpatient; ask your doctor/dentist how to prepare for each time-frame.
Swelling and soreness are common after these types of procedures, so it is advised that you not chew on the impacted side or smoke post surgery. Oral Surgeons will prescribe necessary pain and healing medications.
Prevention is the key. A good oral health regimen is needed to avoid these painful situations. If you're having a tough time with dental costs; DentalSave dental discount plan gives individuals significant discounts on dental services and there is a huge network of dental offices to choose from. For saving money and maintaining good oral health follow the DentalSave dental health blog.