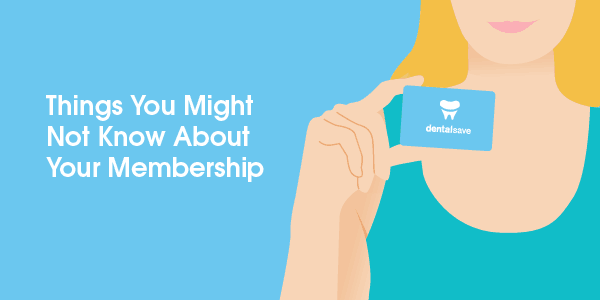 Many people put off going to the dentist, but preventive dental care is something that can not only improve your smile, but your general health and happiness. Your Dentalsave membership can help cut costs and allow you to see your dentist more regularly. If an emergency should arise, you can rest easy knowing that you can receive immediate quality care that is affordable. Founded in 1981, and with over 280,000 discounts served. Our membership plan provides savvy consumers with an easy way to get the care they need— regardless of budget or family size. Here are 5 things you might not know about your DentalSave membership.
Immediate Access Is Included 
Your DentalSave membership kicks in right away! As soon as you sign up, you can make an appointment with a participating dentist and start saving immediately. When you join DentalSave or renew your membership, we will mail you a new membership card via USPS, which can sometimes take three to four days from the transaction date to arrive. If you have an upcoming appointment or would like to start using your member benefits immediately, your membership card can easily be printed at home using just four simple steps.
You Can Shop Around for The Lowest Price for Care
Members can also shop around using fee schedules to find the lowest price for treatment. The cost of dental treatment varies significantly from one region to another. We have created a series of fee schedules that offer quality care at affordable prices all over the country. You can access these on our website to find the fee schedule and dentist that are right for you.
Unlimited Use and Zero Paper Work
Unlike traditional dental insurance, which often limits the frequency of certain treatment, there are no limits on the treatment and procedures you can receive with DentalSave. There are no complicated forms or insurance claims to file, and you don't have to worry about a big dental bill down the road if a claim is denied. You simply pay your dentist the discounted rate for services you receive and you're out the door. Although some dentists will allow you to use discount programs in conjunction with dental insurance, individual office policies vary, so be sure to ask. You might just end up paying even less!
Included Discounts on Vision, Hearing and Prescriptions
Di you know that your DentalSave membership also offers significant discounts on vision, hearing and prescription services?
VISION Our EyeMed Vision Access Plan provides discounts of 20 to 40 percent on eye exams, eyeglasses, conventional lenses and contact lenses at 65,000 providers nationwide, including independent optometrists. You can also take 45 percent off QualSight LASIK performed by top-notch surgeons who have collectively performed over 4.5 million procedures.
HEARING HEALTH CARE Our partner Amplifon Hearing Health Care will give you a 40 percent discount on diagnostic services, including hearing exams and two years of free hearing aid batteries (80 cells per hearing aid, per year). Amplifon will also beat any local hearing aid quote by 5 percent.
PRESCRIPTIONS Your DentalSave membership includes a MedImpact prescription drug savings plan. All you have to do is present your DentalSave card at any of their 62,000 participating pharmacy locations nationwide. You'll save 15 to 60 percent off the retail price of generic drugs, and 15 to 25 percent off the retail price of brand-name drugs. You can also avoid the hassle of going to the pharmacy by having a 90-day supply of medication delivered right to your doorstep. Be sure to use the price checker and enter your zipcode to price a prescription near you.
Test the Waters with a 30-Day Money-Back Guarantee
With an average patient membership of more than eight years, and 36 years of experience under our belts, DentalSave has been a lifesaver for many patients seeking much-needed dental care. If you want to try the program with no risk or obligation, just sign up for a plan, visit a participating dentist within 30 days, and reap the benefits of saving up to 50 percent on quality dental care. If, for any reason, you aren't 100 percent satisfied within the 30 days, we'll give you a full and immediate refund, no questions asked. Learn more about our refund policy here.
What is DentalSave?
DentalSave is a membership plan that provides fee-for-service dental treatment at a significant discount. We have partnered with a network of over 40,000 state-licensed, insured dentists nationwide. Much like a warehouse membership, you pay a small yearly or monthly fee, which offers deep discounts of up to 50 percent from skilled and trusted dentists in your area. We also offer 25 percent off non-listed fees and additional discounts on vision, hearing and prescriptions. You can tailor your plan based on your household and budget. As soon as you sign up, you can make an appointment with a participating dentist and start saving on treatment right away.
With DentalSave, you receive a discount on all dental procedures, from cleanings to crowns. The average cost of a traditional bridge is $1,155, but as a Dentalsave member, you pay only $635.50, giving you a savings of $519.50, or 45 percent!* *Price above is taken from fee schedule S 1.00. Procedure rates may vary depending on your provider's location and regular fees. With over 40,000 dentists to choose from nationwide, your DentalSave membership offers access to reasonably priced quality dental care and can make visiting the dentist a routine that will benefit your health for years to come.