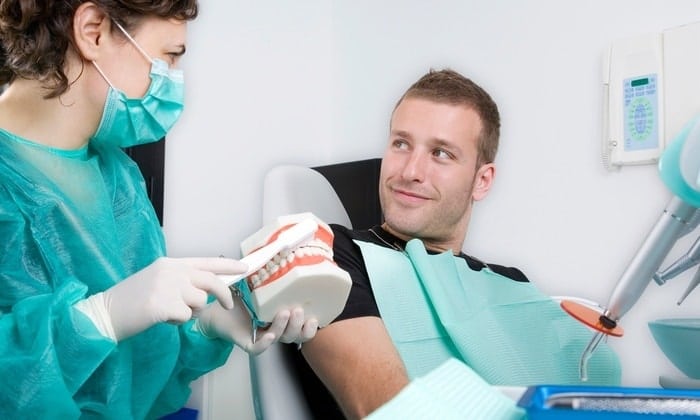 Routine dental care is a must if you are to have strong teeth with the least possible problems, and regular cleaning will prevent plaque and harmful bacteria from wreaking havoc in your mouth. On the other hand, if you've already had ongoing issues with your mouth, regular cleaning can help prevent existing problems from escalating or old issues from resurfacing. When scheduling your cleaning session, you may find yourself faced with an appointment with a hygienist instead of a dentist. If you're wondering what's the difference, this guide will throw more light.
Dental Cleaning By Hygienist Vs Dentist
A hygienist certainly has a less sinister ring to the role, and can set you more at ease during your cleaning session. A hygienist primarily plays a preventive role, such as basic dental care, oral assessment and review of your overall dental health so that oral diseases can be prevented.
Dentist and hygienists play different roles, but they complement each other. Dentists are literally doctors of your teeth and are equivalent to your local GP. A hygienist provides more of a complementary, preliminary service, and refers you to a dentist if more serious problems are detected. Depending on your hygienists qualifications, they may be able to perform deep cleaning, whitening or sealants, in addition to routine cleaning. In a nutshell, hygienists work under dentists, and are not legal doctors, although getting your teeth cleaned by them is equivalently effective.
Protecting More Than Your Teeth
Dental care is necessary, but can be quite a drain on your wallet if you're going to take care of all expenses on their own. Your dental insurance merely covers costs but doesn't actually save money. A dental saving plan from a reputed provider such as DentalSave, on the other hand, helps you save money, and there is no limit on how much you save each year. Opting for one of these plans for you or your family can help you save quite a lot.
In summary, when faced with dental cleaning by hygienist vs dentist, remember that a hygienist is qualified to handle routine cleaning and can help you with basic dental care. A dentist, on the other hand, is qualified to handle more extensive dental procedures and intervene if a problem is to be addressed. To cover the costs of your dental care, a dental saving plan can help you cut back on charges and save.